DALAT WATERFALL TREKKING TOUR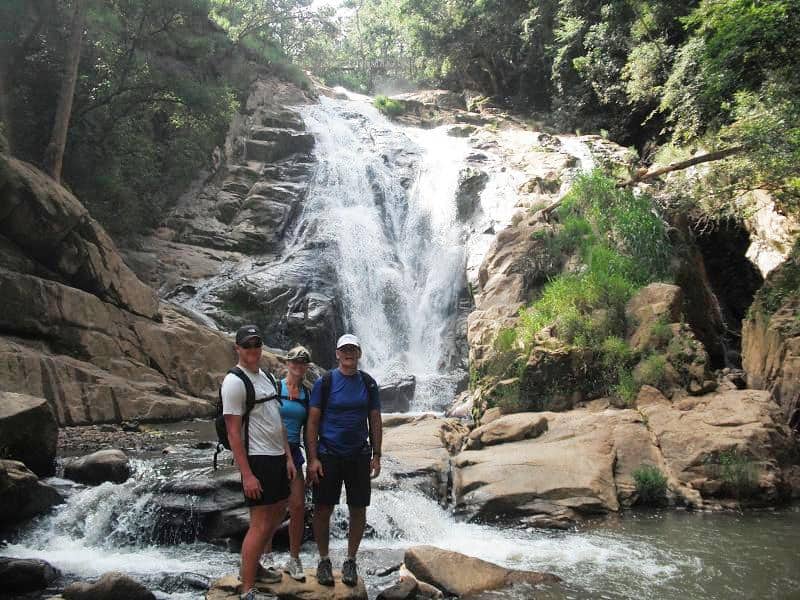 Trekking through the pine forest to the thick jungle. Walk the rolling hills among the vines, broad-leaf trees, and enjoy the cool jungle breeze. Upon exiting the thick jungle section, we will walk between Elephant Mountain and another area peak.
   Then walk through the pine forest, you can see the vegetable farm, coffee and persimmon fruit plantations on the way down to Datanla waterfall.
   You can enjoy some activities: swimming, water sliding, free jump down 3- 7m from rock cliffs.
The Nitty Gritty Details 
Depart From:          We'll pick you up at your hotel 
End At:                       We'll drop you off at your hotel 
Duration:                  1 Day                                             
Departure Days:    Daily 
Activities:                 Hiking, Rappelling, Water Sliding, Swimming.       
Trekking Grade:    5 – Moderate
Transportation:     Van or car to trailhead, depending on group size
Meals:                       Fruit snack, purified drinking water, picnic lunch
                                     Please note one day in advance if you have special dietary requirements.
What to Bring:          Hat, sunscreen, clothes for swimming, repellent, camera, sports sandals/snickers /water shoes
What's Included:      English speaking professionally trained guide, all necessary forest and tourist permits, first aid kit, lunch and transport as listed above, and TRAVEL INSURANCE.
                                        We are happy to show you our equipment, which meets the highest standards for testing and safety. 
 What's Not:               Personal major medical including evacuation insurance coverage is recommended. Gratuities (recommended)
Tour Cost:  $ 48  - START 8:30 AM
Number of person

2pax

3-4pax

5-7pax

>8pax

Price/1 pax (USD)

$48

$45

$40

$35

No hidden charge. Discount: be available for a big group on all our of tours
For further information - Please contact with us: 
   [T]: 0263.3527.627 
   [P]: 0918.924.302 
            Viet Action Tours - GIVES QUALITY TIME!