MEKONG DELTA TOUR IN 1 DAY
OPT1:MEKONG DELTA 1 DAY (MY THO – BEN TRE)
7:30 am: Depart from our office to My Tho by A/C bus one and half hours, bus rides passing rice fields.
Arriving MyTho, you get on the motor boat and discover 4 islands: Dragon, Unicorn, Phoenix, Turtle Island and stop at the famous Unicorn Island, visit bee farm (taste lemon honey tea, cakes), crocodile farm, Walking on the village and taking a rowing boat along the nature water coconut canal. Have lunch at Local restaurant.
Continue your motor boat to Ben Tre province to visit a handmade coconut candy workshop (taste candy),  listening to the Southern traditional music and tasting tropical fruits, greentea. Return My Tho and go back Saigon (arrive at 5:30pm).
PRICE:
370.000 VND (~ US $15) / pax  (Normal group)
460.000 VND (~ US $20) / pax   (Small group - 20 people)
Includes: A/C bus, water, tour guide, boat trip, entrance fee, lunch and fruits
PRICE:  800.000 VND (~ US $35) /pax (Luxury group: 9 guests/group, Minivan bus, water, tour guide,boat trip, bicycle, horse carriage, entrance fee, lunch (set menu), fruit
Tour by speedboat:  2.300.000 VND/pax (8:00 am – 3:30 pm) – P/up 7:45 am
Included: tour guide, boat, lunch (set menu) and fruit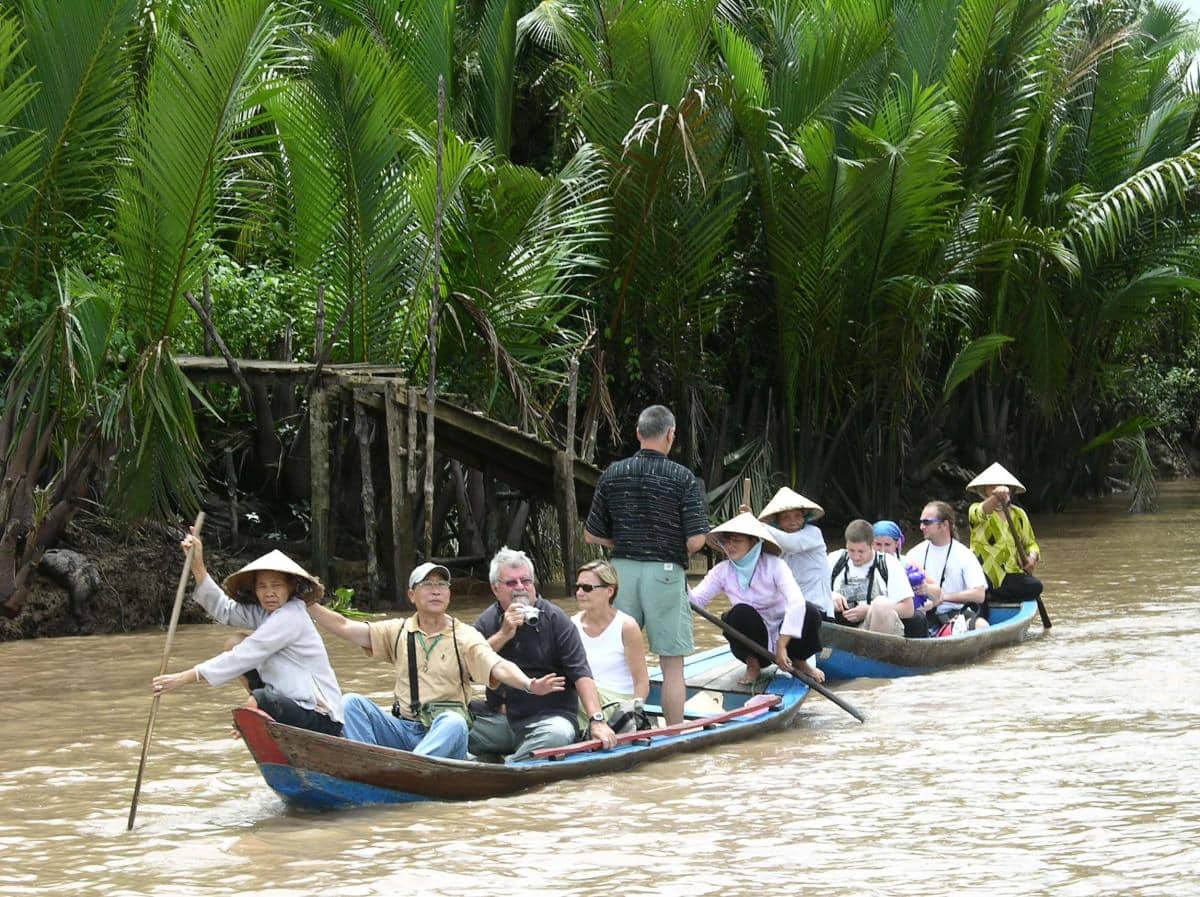 OPT2:MEKONG 1 DAY (CAI BE FLOATING MARKET – VINH LONG)
7:30 am: It takes two and half hours by A/C bus. On the way you can see the green paddy fields stretching towards horizon. 
After arrival in Cai Be a boat take you to see the floating market, a rowing boat moves along the maze of shady cannels to arrive local orchard to enjoy the tropical fruits and to see the daily activities of local people and key stops are the bee farm, coconut candy factory, workshops. 
Then you will enjoy riding bicycles or roaming through the village to have a look at several local product making shops. 
Go back Saigon (arrive at 5:30pm)
 PRICE:
     -  460.000 VND (~ US $20) /pax  (Normal group: A/C bus, water, tour guide, boat trip, entrance fee, lunch and fruits)
    -  1.140.000 VND (~ US 50) /pax (Luxury group: 9 guests/group, Minivan bus, water, tour guide,boat trip, bicycle, entrance fee, luch (set menu), fruits)