This 6-day adventure takes you by bike from the central highland hill station of Dalat to the World Heritage site of Hoi An. This unique journey is a fantastic way to see the country by bike in an ideal climate for biking. The itinerary can be done in reverse as well, for those starting in Hoi An/ Dalat and venturing down/up from the north/south.
Day 1 – Dalat to Lak Lake (150 Km – L)
 – 8:00 am pick up at your hotel and start of the tour
 – Fantastic riding section about 17 km downhill to Tanung. Flat to rolling hills after this.
 – Transfer by vehicle (or ride part ways) to the top of Phu Son Pass for an early lunch at 11:30 am.
 – Bike down Phu Son Pass to Lak Lake where we overnight in Lak village.
 – Dinner and breakfast in Lak Lake.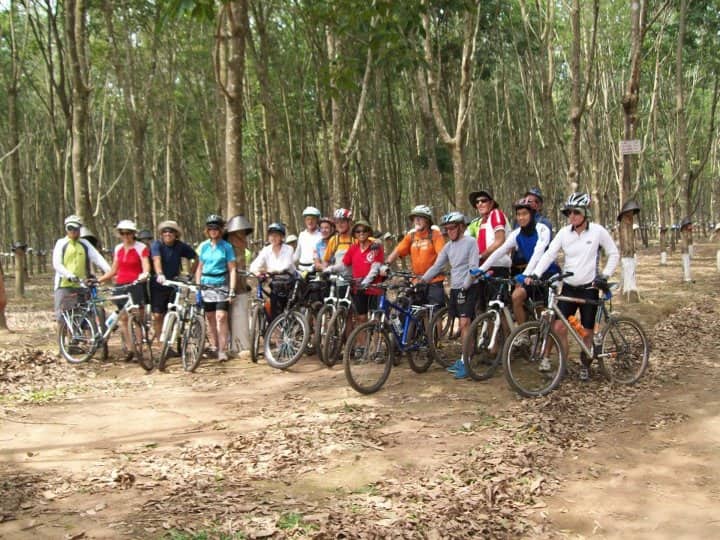 Day 2 – Lak Lake to Buon Me Thuot (50Km – B/L)
– After breakfast head out to visit one of the old summer retreats of Emperor Bao Dai.
– Take a boat to a remote village on the far side of Lak Lake. Some light trekking is possible from this village.
– Back to Lak Lake for lunch and a rest before the 50 km bike ride to Buon Me Thuot (mostly flat).
– Arrive in Buon Me Thuot around 4:30 pm. Evening free to explore.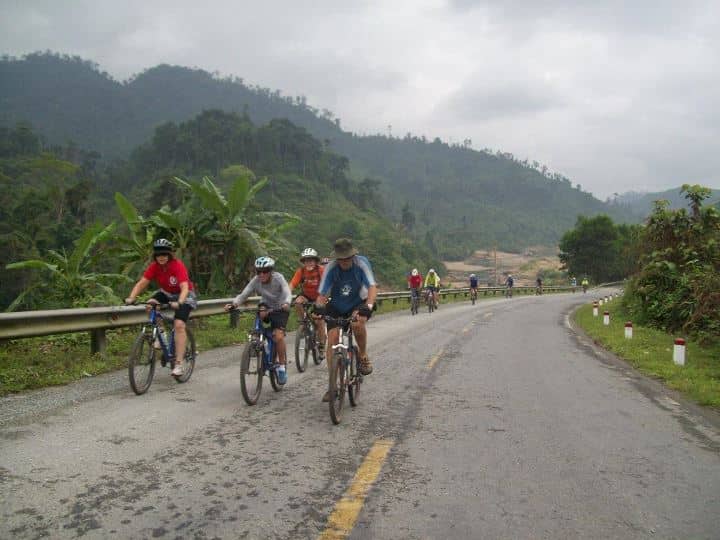 Day 3 – Buon Me Thuot to Pleiku (200Km – B/L)
– From the hotel, we transfer about 10 km out of the city before we begin biking.
– The first 10km is on a beautiful country road that eventually narrows even further and wanders through small farms and villages for about 15 km (very flat).
– After this, we enter into a very stunning rubber tree plantation that continues for 25 km (rolling with some small hills).
– Lunch will be taken on the way (picnic style lunch on this day) 30 km more of biking is possible after lunch before we transfer the rest of the way to the hotel in Pleiku.
- Overnight in hotel in heart of Pleiku town.
Day 4 – Pleiku to Ngoc Hoi (130 Km – B/L)
– Leisurely breakfast at the hotel and a later start to the day.
– Departure by bike from the hotel at around 8:00 or 8:30 am.
– Visit a "Sea Lake" on the way, local minority village (Ba Na), a scenic suspension bridge and a traditional wooden church.
– Then, continue visiting Russian Tanks and Charlie Hill. Lunch in Kontum.
– In the afternoon, keep biking about 69 km thru rolling hills to the hotel in Ngoc Hoi. The evening is free to explore the town.
Day 5 – Ngoc Hoi to Phuoc Son (150 Km – B/L)
– Breakfast at the hotel and an early departure at 7:00 am.
– This is the best riding day of the trip with a fantastic 80-kilometre section of deep jungle forest on both sides of the road. The ride is also very hilly and runs along the border of Ngoc Linh National Park and Ngoc Linh Mtn (2400 meters) through the Truong Son mountain range.
– This is also the day that we travel along the famous Ho Chi Minh Trail.
– The Ba Na and Sedang minorities reside in this jungle area.
– Lunch along the way at a local restaurant.
– Vehicle transfer in the afternoon the rest of the way to Phuoc Son with an estimated arrival at 5:00 pm.
– Dinner will be organized in Phuoc Son with an overnight in a comfortable local guesthouse.
Day 6 – Phuoc Son to Hoi An (130 Km – B/L)
– 7:00 am breakfast at the hotel. – 8:00 am departure with 60 km biking through more great sections of jungle, nice landscapes and waterfalls.
-Lunch on the way (picnic style).
– After lunch continues by vehicle to Hoi An World Heritage Site (approx. 70 km) with an estimated arrival at 3:00 pm.
Tour cost:  
 

| | | | | |
| --- | --- | --- | --- | --- |
| Group | 2pax | 3-5pax | 6-8pax | 9++pax |
| Price/pax (USD) | 590 | 540 | 450 | 420 |