10-DAY BIKE TOUR FROM DA LAT TO HUE
                       ON HO CHI MINH TRAIL
        The remote and undiscovered Central Highlands contain some of Vietnam's best-kept secrets. You will get off the beaten path and discover pristine lakes, clear rivers, vast swathes of historic jungle and isolated ethnic minority villages. This 10-day cycling adventure takes you from the central highland hill station of Dalat to the ancient town of Hue. This unique journey is a fantastic way to see the country in an ideal climate for biking. The itinerary can be done in reverse as well, for those starting in Hue and venturing down to Dalat from the north.
Day 1 - Dalat – Lam Ha (63Km – L)
    - 8:30 am pick up at your hotel
    - Short transfer to the departure point. - 30 km on-road, bike through deep and vast pine tree forests on single lane trails.
    - Thrill to the 17 km downhill ride to Ta Nung, afterwards it's a flat ride to the rolling hills.
    - Visit Silk Factory, coffee plantation and flower farm. - Stop at Elephant Waterfall for Lunch.
    - After lunch, 15 km biking more on the countryside road to Lam Ha
   - The total cycling distance is 63 km on the bike.
   - Overnight in a comfortable local guesthouse in Lam Ha town.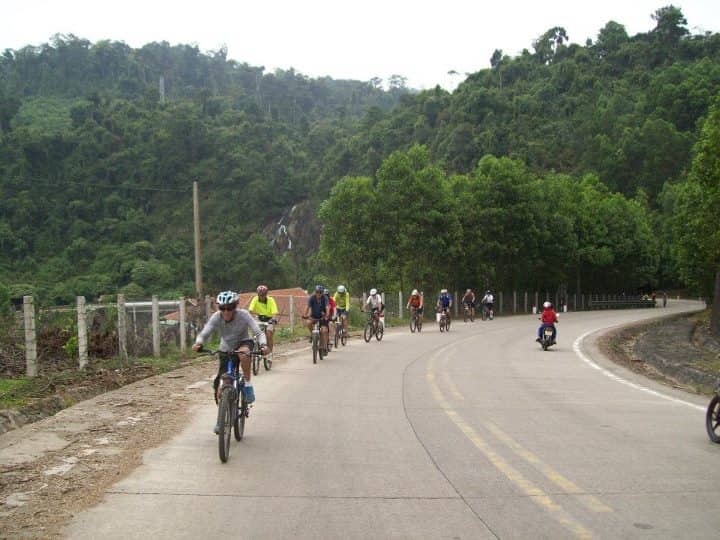 Day 2 – Lam Ha - Lak Lake (100Km – B+L)
    The ride begins on the flat countryside road for 10 kilometres, and then 7 km climb uphill to the top of Phu Son Pass.
       - A 20-kilometre section of downhill riding takes down Phu Son Pass to Phi Lieng Village. - The spectacular mountain views are perfect for pictures along the way
      - After lunch, the ride is pleasant and flat for 40 kilometres to Lak Lake, where we overnight in traditional Long Houses (Homestay).
      - This day offers 70 km worth of mountain biking.
Day 3 – Lak Lake – Draysap Falls (100Km – B+L)
     - After breakfast, head out to visit one of the old summer retreats of Emperor Bao Dai.
     - Take a boat to a remote village on the far side of Lak Lake. Some light trekking is possible from this village. - Elephant riding is available here (extra pay).
      - Back to the longhouse at Lak Lake for lunch and a rest before the 50 km bike ride to Buon Me Thuot and the 16 km mostly flat ride to the falls.
     - Swim and relax at the falls. Spend the night in Bungalow or Long House at Draysap Waterfall.
     - Total 60 km for this day.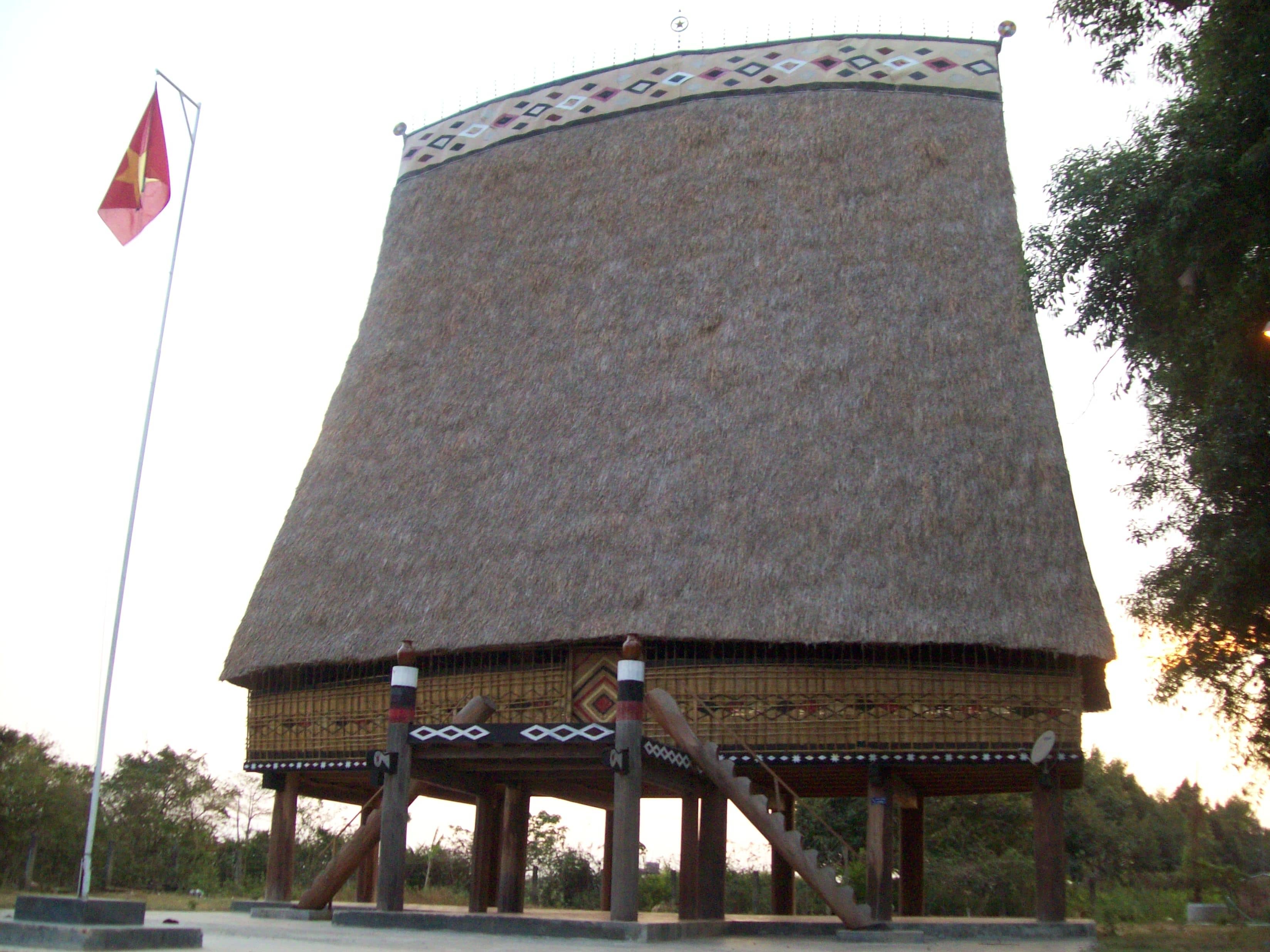 Day 4 - Draysap falls - Yok Don Park - Buon Me Thuot. (100Km – B+L)
     - 8:00: Pick up. Short transfer (about 30 minutes) out of Draysap falls before biking.
     - 8:30: Start biking through pepper plantations, and cashew farms to Don village.
     - After lunch, visit the hanging bridge, and an elephant hunter's house, a total of 60 km of biking are offered for this day.
    - Arrive in Buon Me Thuot around 4:30.
    - The evening is free to explore.
Day 5 - Buon Me Thuot – Pleiku. (200Km – B+L)
     - Depart at 8:00 am. Short transfer (about 50 minutes) out of Buon Me Thuot before biking.
     - This day is particularly long, with 80 km of biking through the fairly flat terrain of coffee and rubber tree plantations.
     - The transport vehicle is available for those wishing to bike a shorter distance.  The road ventures over rolling hills through fantastic sections of pine forest.
     - A superb biking day! A picnic lunch will be taken on the way.
     - Overnight in a hotel in the heart of Pleiku town.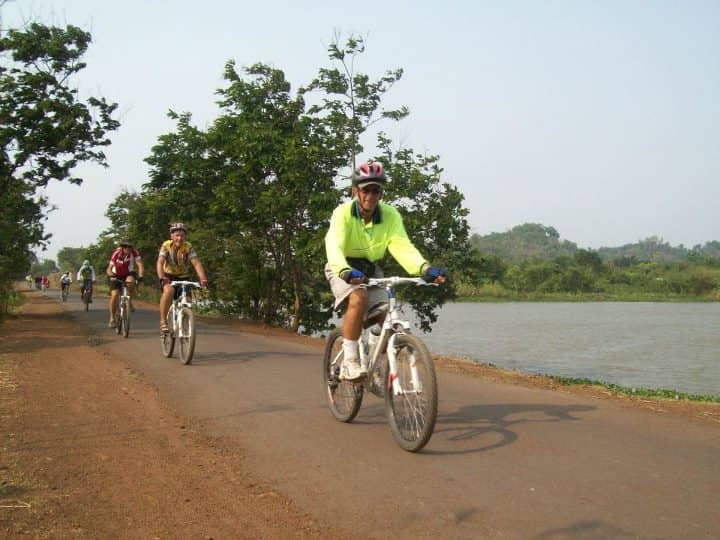 Day 6 - Pleiku – Kontum.(50Km – B+L)
     - Leisurely breakfast at the hotel and a later start to the day.
     - Departure by bike from the hotel at around 9:00 am.
     - The day's ride is a relatively short 50 km, with an opportunity to visit a "Sea Lake" ( a volcanic crater lake ) on the way. Lunch and check into the hotel in Kon Tum.
     - A half day of sightseeing in the afternoon to visit: Wooden Church, Cave Church, Orphanage, Bana Village, including the Rong house, Iron Suspension bridge and Museum.
     - Overnight in a comfortable local guesthouse in Kontum.
     - The evening is free to explore the town.
Day 7 - Kontum to Phuoc Son (200Km – B+L)
     - Breakfast at the hotel and an early departure at 7:00 am.
    - This is the best riding day of the trip with a fantastic 70-kilometre section of deep jungle forest on both sides of the road.
    - The ride is also very hilly and runs along the border of Ngoc Linh National Park and Ngoc Linh Mtn. (2400 meters) through the Truong Son mountain range. This is also the day that we travel along the famous Ho Chi Minh Trail.
    - The Sedang minorities reside in this jungle area. Lunch along the way at a local restaurant.
     - Vehicle transfer in the afternoon to Phuoc Son with an estimated arrival at 5:00 pm.
     - Overnight in a comfortable local guesthouse in Phuoc Son.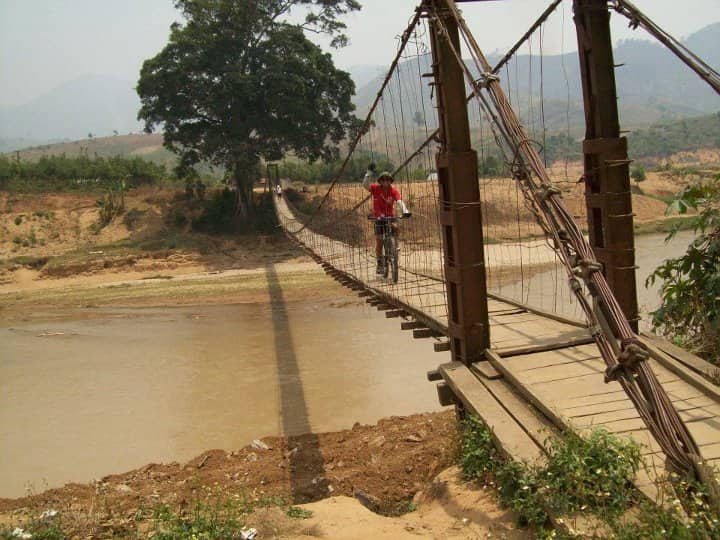 Day 8 - Phuoc Son to Hoi An (130Km – B+L)
     - This is the last day on Ho Chi Minh Trail, a mostly downhill ride to the coast.
     - 7:00 am breakfast at the hotel.
     - 8:00 am departure with 60 km of gently rolling terrain with more great sections of jungle.
     - Get a stunning view of the scenic waterfall and do not forget your bathing suit! Lunch on the way (picnic style).
     - The historic Cham Tower can be visited.
     - After lunch continues by vehicle to Hoi An (approx. 70 km) with an estimated arrival at 2:00 pm.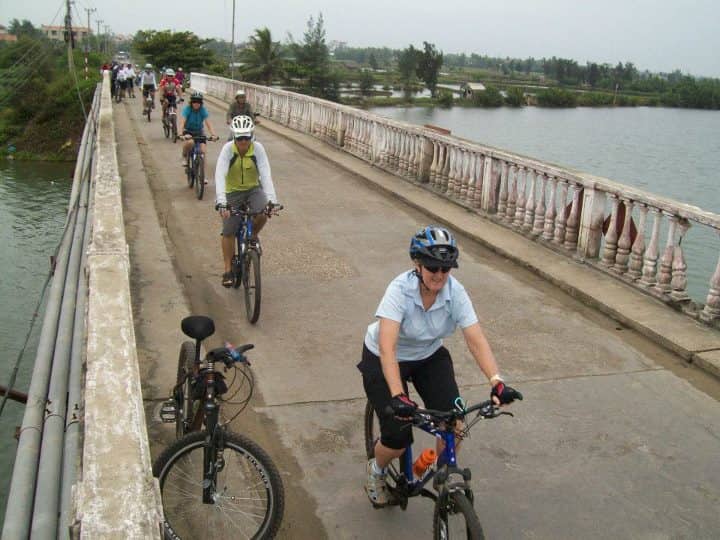 Day 9: Bike around the countryside of Hoi An (40Km – B+L)
     -  Start the ride at 9 am at the hotel.
     - Bike through the tiny village lanes to the river where you can learn about the daily life of the local people.
     - Keep cycling through the fields of corn, sweet potatoes, the forests of nips, the lakes of shrimp and crab farm. On the way, we will visit houses for worshipping ancestors and houses of handicraftmen such as blacksmiths, carpenters and masons where you can learn many unusual things about life in Hoi An.
     - You will definitely understand the Vietnamese water-rice agricultural culture, dragons, turtles, lotuses and bamboo...ect
     - You will discover the rural traditional customs of ''Real '' Viet Nam 
     - Bike back to the hotel at 1 pm.
     - The evening is free to explore the town.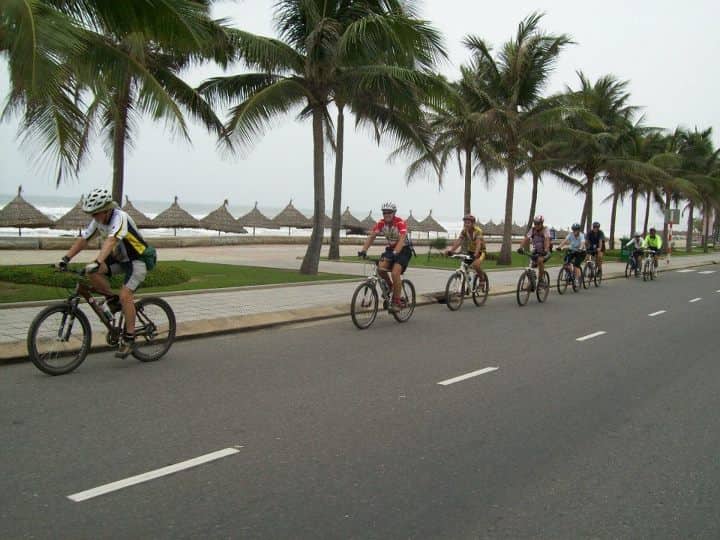 Day 10 - Hoi An to Hue (120Km – B+L)
    - 60 km of biking start in Hoi An at 9: 00 am cycling to Cua Dai beach, along the scenic ocean road to Da Nang.
    - Transfer by van about 30 minutes from Da Nang to Hai Van pass.
    - Bike the last 30 km to Lang Co beach for swimming and relaxing.
    - Lunch along the way at a local restaurant.
     - Vehicle transfer to Hue in the afternoon (the rest of the way), end the trip at around 4 pm and see you again.
         PRICE:
Number of person

2pax

3pax

4-6pax

>7pax

Price/1 pax (USD)

$1.200

$1.090

$980

$900

No hidden charge. Discount: be available for a large group on all our of tours
      INFORMATION OF 10 DAY BIKING TO HUE
Departure days:  Daily.
Depart from:        we pick you up at your hotel in Dalat.
End at:                    we drop you off at your hotel in Mui Ne
Start time:             07:00AM
Finish time: 16:00 PM or Depends on you - How fast do you ride?
Transportation:     Front suspension mountain bike, supported vehicle depend on group size.
Meals:                    Picnic lunch
What to bring:       Hat, sunscreen, repellent, camera, good shoes for biking
What is included: Transport, Accommodation (homestay, hotel 2*, 3*…..) , English speaking guide, Meals(B=Breakfast; L=Lunch; D=Dinner), Entrance fees, Water, all necessary forest and tourist permits, first aid kit, bikes, helmets, and gloves .
What is not:           Personal major medical including evacuation insurance coverage is recommended.
                               Tips for our guides are always appreciated.
        For further information - Please contact with us:
       Tel: 
+84263.3527.627 - Hotlines: 
+84918.924.302
       Email: vietactiontour@gmail.com  
                                  Vietaction tour - Gives your quality time !
                     **** special discount for large group