The Crazy House was formally called "Hang Nga Villa"; the change of name was made because some people copied its original name for their buildings.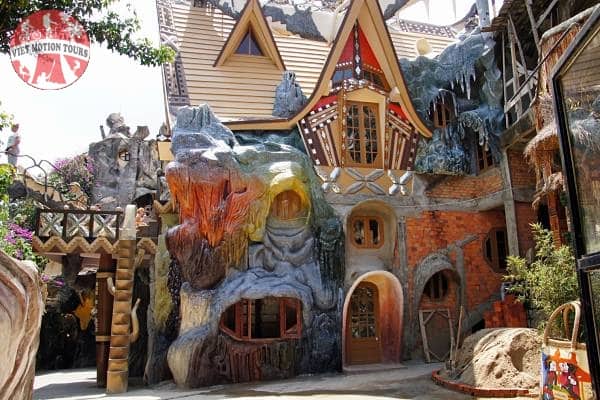 Since the end of the last century till now, nature and the environment have been too much destroyed; and human beings have taken the consequences of what they have done. For this reason, as a Vietnamese architect, I would like to bring people back to nature to be more friendly with it, to love it; not just to make full use of it, then destroy it as people in many places of the world including Viet Nam have been doing.
   Hang Nga Villa represents my lifestyle, my creativity as an architect. Having graduated from the University of Architecture in Moscow (1959-1965), I furthered my study to get a PhD (1969-1972). Then, I returned to Hanoi and worked for the Architecture Institutes of Ministry of Construction & Ministry of Culture. In 1983, I moved to Da Lat and worked for the Da Lat Architecture Institute. 
   I really love Da Lat. It is its beautiful & peaceful landscapes and the cool climate that have attracted me most. In addition, all the gentle people that I have met here have greatly influenced my decision: to settle down here till the end of my life. After years of hard work, I have designed lots of buildings for my beloved nation. And now, I find that it is time to make my dreams come true, to create some unique architectural works.
   Although I was trained in the mainstream of architecture, I do want to step out of it and did create Hang Nga Villa by forming unshaped cubes with curves & unshaped planes without depending upon any classical principles in the arrangement of cubes on lines and square planes as usual. Especially, the outdoor space outside the Crazy House is on four sides, the windows are placed in these outdoor walls so that natural light sheds into every room from all directions.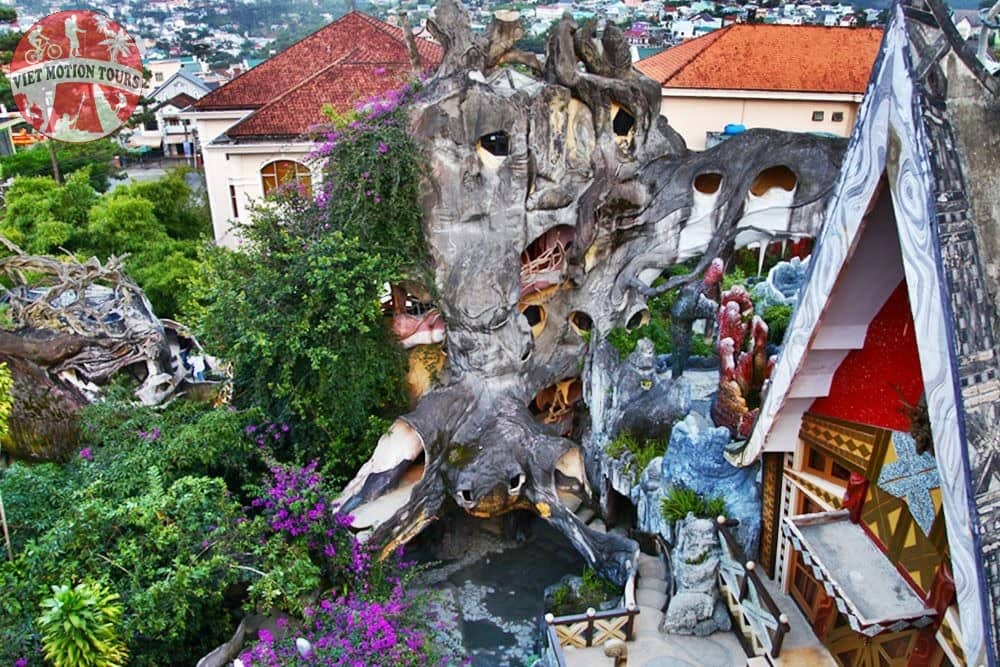 The Hang Nga Villa was first built in 1990, has been improved and will be completed in 2020 probably (Firstly I intended to complete it in 2010 but I could not because of various reasons). It is the co-ordination between slabs of stone and hollow of stumps. With slabs of stone, we can build a house with lots of nice, warm and comfortable rooms inside the hollow of stumps, or even a majestic palace in this way. The Crazy House is not only an ideal place for people to visit, but also a hotel for them to stay in long-term.

   Everyone aspires for independence and freedom; therefore, through the Crazy House I want to realize my dreams of independence and freedom in the art of architecture. 
  Open: 7h30 Am - 17hoo Pm
  Entrance fee: 40,000vnd/person